27. Juli – 10. November 2019
For its second exhibition, opening this summer, Muzeum Susch presents a solo show of the late Emma Kunz (1892 – 1963): the first dedicated exhibition to be staged in the artist's native Switzerland since 1973. Emma Kunz: Visionary Drawings is organised in collaboration with the Serpentine Galleries (United Kingdom), co-curated at Muzeum Susch by Krzysztof Kościuczuk. Exhibiting rarely shown works, it will be an extensive survey showing near to 70 of Kunz's distinctive 'energy-field' drawings, produced between 1938 and 1963.
Foremostly a practicing naturopath, Kunz was dedicated to researching a greater understanding of nature and used radiesthesia – where a pendulum is employed to detect vibrational fields – to seek answers relating to politics, the environment, philosophy and the personal. Emma Kunz's 'energy-field' drawings were made using the pendulum, plotting its swings, stops and starts onto paper using graphite and colour pencils. Telepathic from a young age and committed to healing, Kunz would refer to these drawings in sessions with patients. She left her works undated and untitled, without prescribed meaning, recognizing that they could relate to different spiritual-inquisitions. With the exception of a few works that Kunz shared as direct verbal readings, the drawings are exhibited in keeping with the artist's line of thinking, revealing no chronology or her interpretations in their display.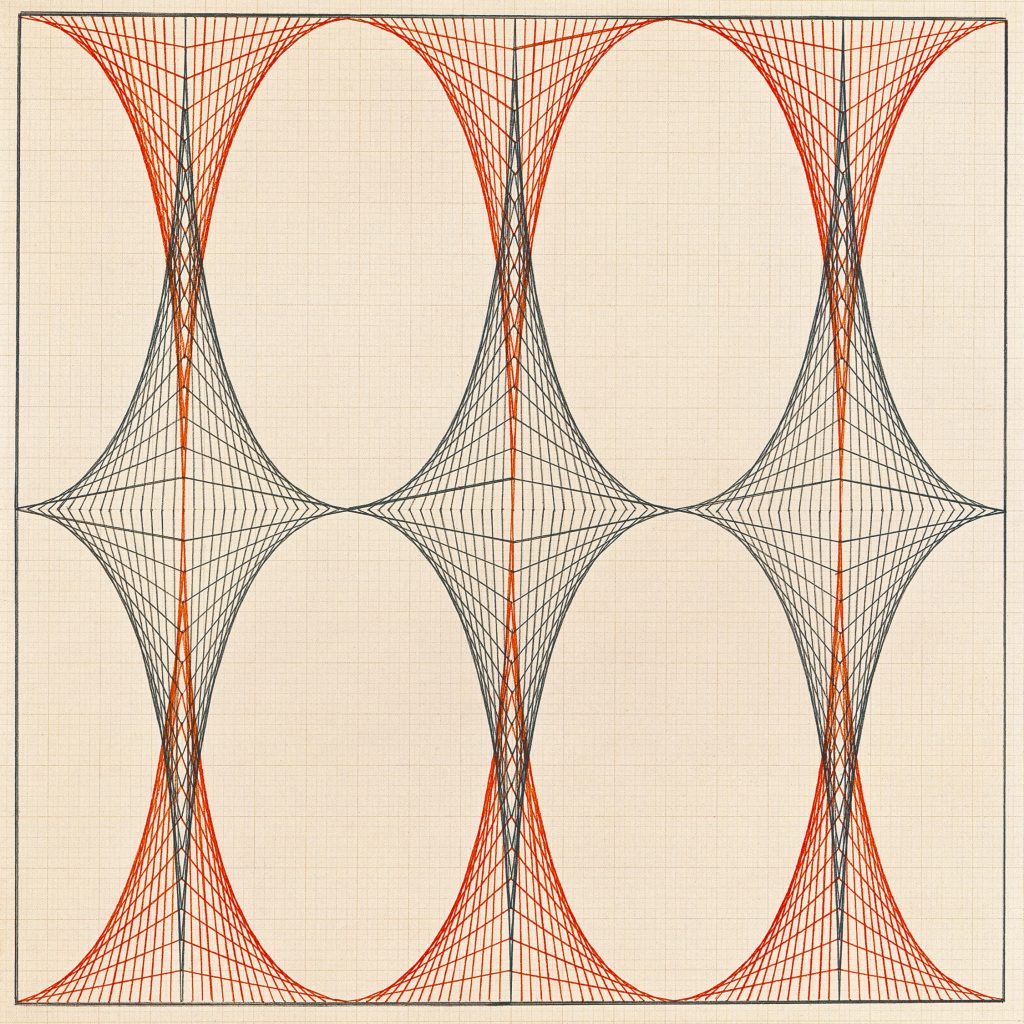 Though Kunz was keen to share her 'new method of drawing', her artistic practice was intrinsic to her work as a healer and researcher of plants, minerals and medicines. Similar to her near contemporary, the Swedish artist Hilma af Klint, Emma Kunz recognized that her work was destined to live in the public posthumously. Her drawings were first exhibited in a solo show in Switzerland in 1973 at Aargauer Kunsthaus. Often considered an outsider artist, Kunz, a pioneer of spiritual art began to enter the realm of visual arts following seminal exhibitions, including Harald Szeemann's The Bachelor Machines (1975) as well as the founding of the Emma Kunz Zentrum in Würenlos, Switzerland, in 1986. Reflecting her exploration of spirituality and abstraction, Emma Kunz has regularly featured in group exhibitions with Hilma af Klint (1862 – 1944), Georgiana Houghton (1812 – 1884) and Agnes Martin (1912 – 2004).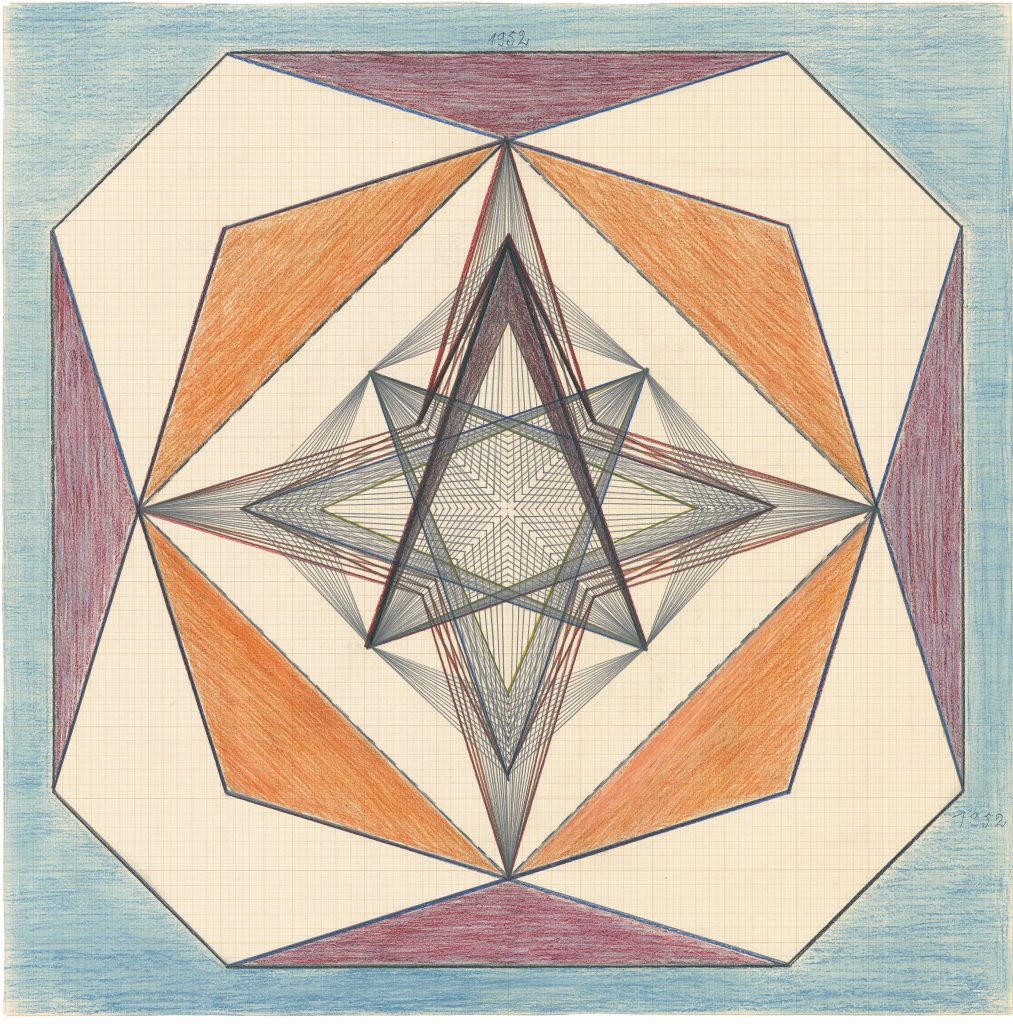 As the second exhibition at Muzeum Susch, Emma Kunz: Visionary Drawingsupholds one of the museum's founding missions: to celebrate artists, and in particular women, who have not yet received due recognition in the mainstream canon. The museum's commitment to knowledge production and research through an inter- disciplinary matrix is mirrored in Kunz's own visionary creative practice at the intersection of philosophy, science and visual arts. The setting of Muzeum Susch and the deep connection of the building's architecture to its alpine surrounding fosters a connection with Kunz's own relationship to healing rocks, patterns and nature.
Emma Kunz: Visionary Drawings curated by Hans Ulrich Obrist (Artistic Director) and Melissa Blanchflower (Curator, Exhibitions and Public Art) is organised by the Serpentine Galleries in collaboration with Muzeum Susch where it is co-curated by Krzysztof Kościuczuk. The exhibition premiered in London in Spring 2019 and has been expanded for its display at Muzeum Susch. All works have been loaned from the Emma Kunz Zentrum. In contribution to the legacy of Emma Kunz, the Serpentine Galleries and Muzeum Susch have also collaborated on the publication of Emma Kunz Visionary Drawings, co-published with Koenig Books including new texts by Dawn Ades, Bice Curiger, Desmond Morris, Hans Ulrich Obrist, Tabita Rezaireand Ali Smith.
Exhibition Dates: 27 July – 10 November 2019
Location:
Muzeum Susch Surpunt 78 CH-7542 Susch
Emma Kunz:
Emma Kunz (1892–1963) was a Swiss healer, researcher and artist. She did not receive a formal arts education, yet in her lifetime she self-published three books and produced hundreds of geometric drawings which were first shown posthumously in 1973 at Aargauer Kunsthaus Aarau and later in Musée d'art Moderne de la Ville de Paris in 1976. Swiss curator Harald Szeemann included her work in Visionäre Schweizin Kunsthaus Zürich, Museo Nacional Reina Sofia, Madrid and Städtische Kunsthalle,
Düsseldorf (1992). Other group exhibitions include Centre Culturel Suisse, Paris (1992) co-curated by Bice Curiger, Hans Ulrich Obrist and Bernard Macadé, and more recently World Receivers: Georgiana Houghton – Hilma af Klint – Emma Kunz, Lenbachhaus, Munich (2018), the 55th Venice Biennale (2013); Ghosts in the Machine, New Museum, New York (2012); Gwangju Biennale (2010) and 3 x Abstraction, New Methods of Drawing by Emma Kunz, Hilma af Klint, and Agnes Martin at The Drawing Centre, New York, Santa Monica Museum of Art (both 2005) and IMMA, Dublin (2006).
The Emma Kunz Zentrum was opened in Würenlos, Switzerland in 1986 to preserve the spiritual findings of Emma Kunz and to extract AION A, a healing rock that she discovered in 1942. She continually returned to this place in order to 'recharge like a battery' her body and soul.
Muzeum Susch:
A new kind of 'laboratory', Muzeum Susch opened in January 2019, founded and created by Grażyna Kulczyk, the Polish entrepreneur and long-term supporter of contemporary art whose past flagship ventures have nurtured novel platforms for dialogues in the arts and beyond. The museum is housed in an extraordinary campus located on the site of a 12th century former monastery and brewery in Susch, a remote town on the ancient pilgrim route to Santiago de Compostela in the Engadin valley of the Swiss Alps. The multi-faceted project comprises over 1,500 m2 of gallery spaces which show both site- specific permanent artworks and a regular programme of curated, temporary exhibitions.
Serpentine Galleries:
Championing the possibilities of art, architecture and ideas for the past half-century, the Serpentine Galleries, London presents a year-round, open programme of exhibitions, architecture, design, education, live events and technological innovation across two sites in the Hyde Park, Kensington Gardens and beyond.
https://www.serpentinegalleries.org