Galleria Robilant + Voena St.Moritz, St.Moritz. 8. Februar – 7. März 2020.
LES LALANNE IN ST. MORITZ
François-Xavier Lalanne (1927 – 2008) is renowned for his large-scale sculpture animals that often contain secret compartments or double as functional furniture, such as his 1964 Rhinocrétaire – a life-size rhino with a desk concealed in its stomach. Claude Lalanne (1925 – 2019) has been recognised for her flora-inspired jewellery and sculptures that are made by employing contemporary electro-plating techniques. Until her death in April last year Claude was still actively producing artworks from her home and studio near Fontainebleau, France. She touched audiences all over the world with her animals, flora and fauna sculpted in copper and gilt bronze, designs often inspired by the vegetation in her own garden.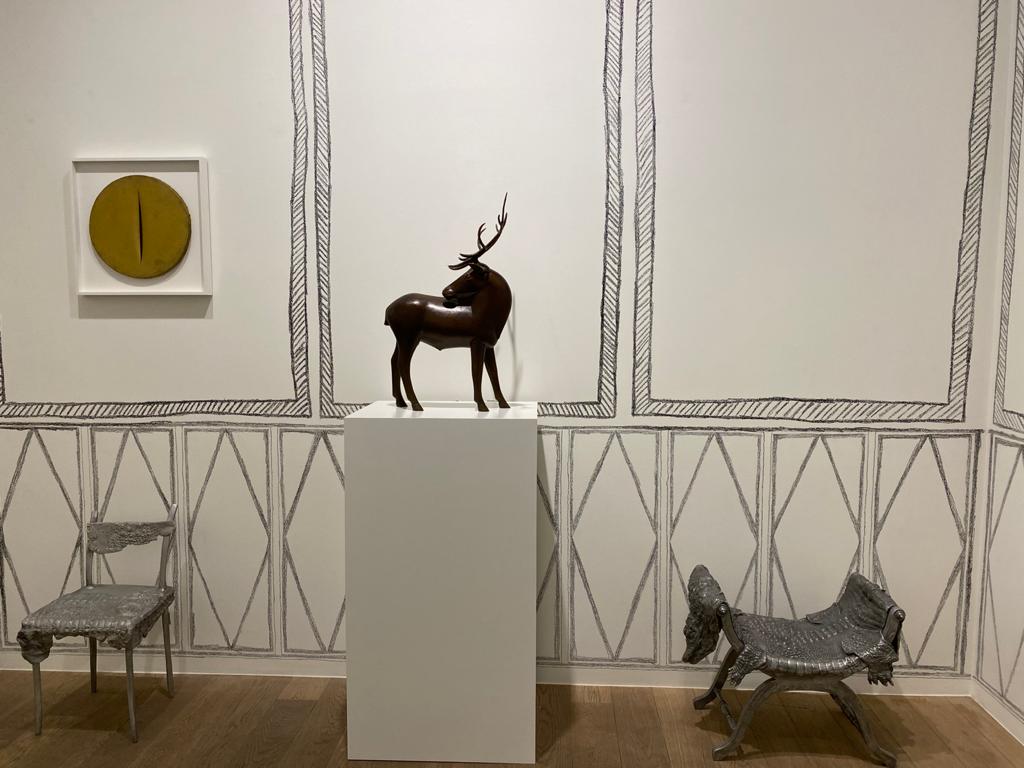 The exhibition Domesticated Beasts & Other Creatures, held at the Whitechapel Gallery in 1976, launched their career. Gradually, as the couple was acknowledged in retrospectives and commissions in France, their pieces entered important international collections through the championing of their work by interior designers and tastemakers. Some of their epochal pieces were displayed in the library of Yves Saint Laurent and Pierre Bergé. Furthermore, their work became part of the eclectic collection of Gunther Sachs, displayed in his penthouse at the St. Moritz Palace Hotel.
The Lalannes' work has been growing in popularity and in recent years achieved iconic status, propelled by the 2009 Christie's Paris sale of Yves Saint Laurent's collection and enhanced by a major retrospective at Musée des Arts Decoratifs in Paris in 2010, curated by one of their most ardent fans, the architect Peter Marino, who owns around 40 works by the artists. In October 2019 a Sotheby's Paris sale of the personal collection of Claude and François-Xavier Lalanne pulled in a collective $101.5 million (€91.3 million) – a record-setter for the auction house. Their cult-like following has grown exponentially and includes private collectors from around the world such as Tom Ford, Karl Lagerfeld, Marc Jacobs, François Pinault and Bernard Arnault.