03. August – 14. September 2019, Galerie Karsten Greve, St.Moritz.
Oft wird in der Kunst Leiko Ikemuras als bestimmendes Moment die Begegnung zweier Kulturen charakterisiert: Sie verarbeitet die westliche Kunstgeschichte, die Themen und Formensprache aber lassen den Betrachter in die japanische Tradition eintauchen, in der die Asymmetrie, das Unvollständige und das Uneindeutige verehrt werden. "Die Imagination ist die stärkste Kraft in meiner Kunst", so die Künstlerin, und es ist dieses Spiel, mit der Phantasie etwas zu vollenden und in einen Dialog zu treten mit der an Grenzen, Eindeutigkeiten und an Symmetrie orientierten westlichen Tradition.

Ikemuras Kunst ist der Versuch, sich der rationalen Kontrolle zu entziehen und in die Unmittelbarkeit eines sinnlich-emotionalen Erlebens einzutauchen. Der Betrachter findet sich in einer Art Zwischenwelt, in Horizontlandschaften mit optisch entgrenzten Bildräumen oder in kosmischen Landschaften, deren Formen anthropomorph interpretiert werden – menschliche Wesen, die sich zu Tieren ausformen oder Bäume und Felsen, die sich zu menschlichen Gesichtern wandeln. Die Übergänge sind stets fließend – in Malerei oder Skulptur, in Landschaft oder Menschenbild.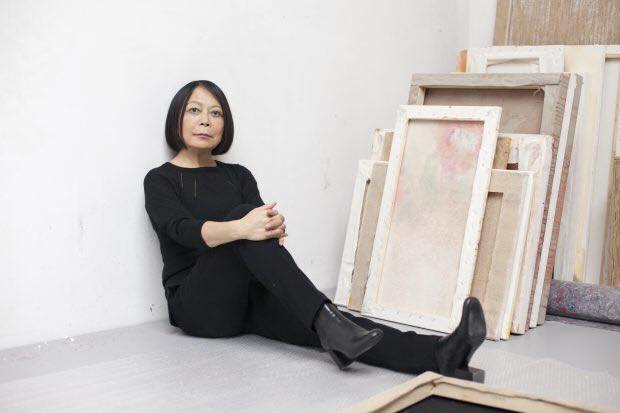 Leiko Ikemura wurde in Tsu, Japan, geboren. Sie studierte spanische Literatur an der Fremdsprachen-Universität Ōsaka und wanderte 1972 nach Spanien aus, um das Studium in Salamanca und Granada zu vertiefen. Die Zeit von 1973 bis 1978 widmete sie dem Studium der Malerei an der Akademie in Sevilla. Nach ihrer Übersiedlung in die Schweiz hinterließ Leiko Ikemura in der Zürcher Kunstszene der frühen Achtzigerjahre ihre ersten markanten Spuren. 1983 zeigte der Bonner Kunstverein erstmals ihre Arbeiten in einer umfassenden Einzelausstellung. Es folgten zahlreiche Einzel- und Gruppenausstellungen in international renommierten Häusern, wie 1987 am Museum für Gegenwartskunst in Basel. In der jüngsten Vergangenheit fanden vielbeachtete Ausstellungen u.a. in der Staatlichen Kunsthalle, Karlsruhe (2012), Vangi Sculpture Garden Museum, Shizuoka, Japan (2014), Museum für Ostasiatische Kunst, Köln (2015) und Haus am Waldsee, Berlin (2016) statt.
Von 1991 bis 2015 lehrte Ikemura an der Universität der Künste, Berlin (UdK, ehemals HdK). Seit 2014 hat sie eine Professur an der Joshibi University of Art and Design, Kanagawa, Japan, inne. Leiko Ikemura lebt und arbeitet in Berlin und Köln.