20. Juli – 15. August 2019, Proyecto Amil, Tschlin.
Train to be a Tribe ist eine Auswahl neuer Werke und eine Performance-Lecture, die inhaltlich und formal eng miteinander verknüpft sind. Zentrales Element der Ausstellung ist die gleichnamige Serie von großen, muskulösen, kiwiartigen Sulpturen. Der physische Aspekt dieser animalisch wirkenden Skulpturen, wird durch den Ausstellungsraum, ein ehemaliger Stall in Tschlin, noch verstärkt.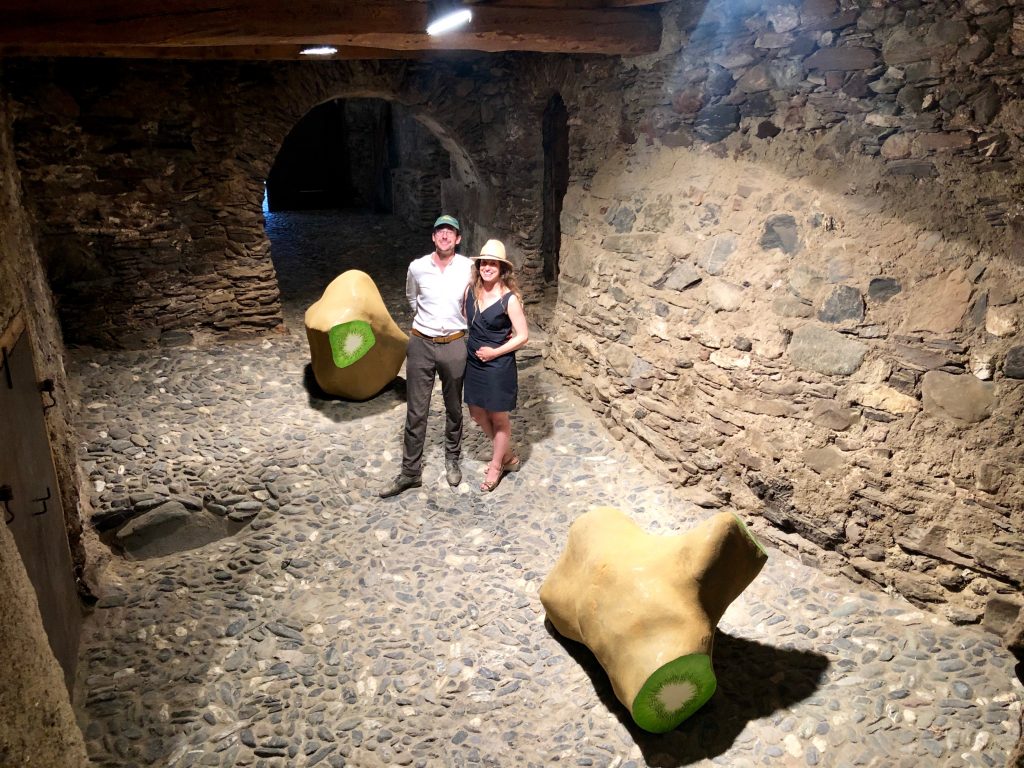 Wichtige Themenbereiche in Badel / Sarbachs künstlerischer Praxis sind die Beziehung zwischen Mensch und seinen Mit-tieren und der Begriff der Naturkultur. In diesem Kontext stehen auch die Skulpturen Cotschen Plants und die digitalen Fotografien Cotschen Tongues, die erstmals in Tschlin ausgestellt werden. Ausgangspunkt dieser beiden Arbeiten war die Cochenille-Laus.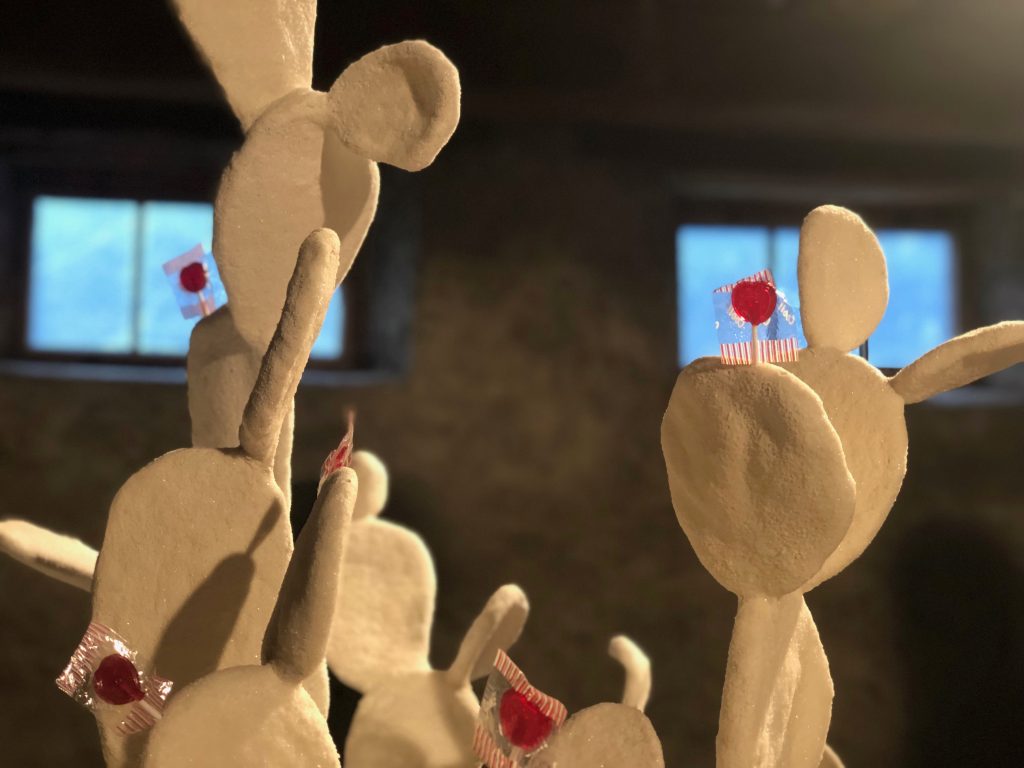 Ein Tier, das getrocknet und pulverisiert nach Europa exportiert wurde und dort als teures Pigment gehandelt wurde/wird. Die Cochenille Laus prägte die Kunstgeschichte und spielte in Prozessen der Distinktion verschiedener sozialer Schichten und der Visualisierung von Macht eine wichtige Rolle. Badel/Sarbach arbeiten mit dieser Geschichte und entwickeln darraus neue Werke, die das heutige Verhälnis von Natur und Kultur thematisieren. Zufällig wird die Cochenille-Laus noch heute in Peru gezüchtet, was zum Austausch zwischen dem Engadin und Lima, dem Hauptsitz von Proyecto AMIL, passt.


Am Samstag, den 3. August, wird Badel/Sarbach den Performance-Vortrag We, the Foodimals aufführen. Dieser vereint Fruchtschnitz-Workshop und Anregungen zum Nachdenken über Hoch-Kultur und Populär-Kultur in einem. Weiter verdichtet diese Performance-Lecture die Themen der Ausstellung: die Dreiecksbeziehung von Mensch-Tier-Pflanzen, die Frucht als sozialer Hotspot, die Ausstellung als sozialer Hotspot, der Einsatz von Werkzeugen, die An- und Abwesenheit von Körpers und schlussendlich, immer wieder die Formfindung von Skulptur.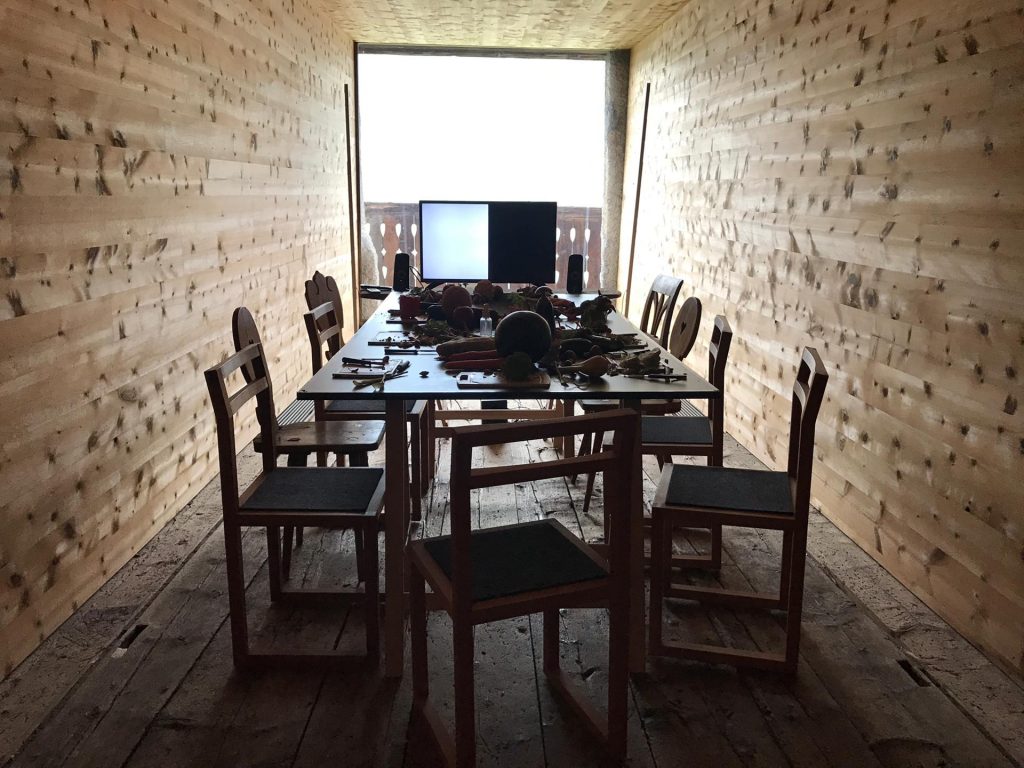 Performance Lecture: We, the Foodimals
Saturday 3 August 2019, 14:30
limited participation, please make a reservation: badelsarbach@hotmail.com
For guided visits trough the exhibition write to: info@proyectoamil.org