Galerie 10, St.Moritz, 11. Mai 2020 – Ende September 2020.
Die aktuelle Ausstellung in der Galerie 10 St. Moritz ist die erste Schweiz Ausstellung des Künstler Duos Waldburger-Stew.. Seit 6 Jahren kennen, lieben und ergänzen sich beide künstlerisch.
Wie bei vielen Künstlerpaaren, gilt bei ihnen 1+1=3.
Aus ihrer beiden schöpferischen Kräften erschufen sie nämlich, sich gegenseitig katalysierend, einen dritten allegorischen Partner, ihre Kunst, das materielle Produkt ihrer zerebralen Liebe. « Threesome: You, Me and The Art».

2014 lernten sich die jungen Nachwuchskünstler Helen Waldburger und Eliott Stew an der Kunst Universität Central Saint Martins, London, kennen. Viele gemeinsame Erfahrungen, lange erörtete Visionen, geteilte Überzeugungen haben seitdem ihre Leben stets dichter aneinander geflochten bis dieser fast eigenständiger dritter Partner, die Kunst, gebar und sich entfaltete.
Gemeinsame Aufenthalte im Engadin hat das junge Paar zu dieser Ausstellung verarbeitet. Helen, eine in Zürich geborene Schweizerin, die seit den ersten Kindheitsschritten St.Moritz und das Engadin mehrmals jährlich besucht und bewohnt, hatte Eliott, selbstverständlich ihre Liebe zum Engadiner Tal nahegelegt. Für sie, ist das Engadin ein Magnet, eine einzigartige Region, geprägt von majestätischer Schönheit und Respekt einflössender Kulturgeschichte mit grossen Künstler Fussstapfen, die jeder junger Künstler, Wunschträumen hinterherjagend, bewundert. Allemal ist es auch dann eklektischer, die gewohnte Zweitheimat mit den frischen Augen des alles neu entdeckenden britischen Freundes zu hinterfragen und neu zu entdecken. Und so flossen Wiederentdeckungen und Gespräche, Neuentdeckungen und neu-geschaffene-gemeinsame-Erinnerungen rund um St.Moritz in die jüngsten Facetten des Threesomes. Und genau darauf basiert diese aktuelle Ausstellung.
Mit über 25 neuen Werken hoffen Waldburger und Stew mit dem Publikum ein Dialog über die Konzepte von Partnerschaft zu eröffnen, insbesondere zum Thema der Deutungsmöglichkeiten der transzendenten Werte von Partnerschaften.
Waldburgers künstlerisches Schaffen ist im ständigen Prozess das Konzept einer gegenwärtigen Weiblichkeit zu interpretieren, in einer tagebuchartigen Routine. Wasser- und Ölfarben trägt sie auf durchsichtigem Stoff auf. Damit spiegelt für die junge Künstlerin die luftige Transparenz des Stoffes nicht nur die Entblätterung der Künstlerseele vor dem Betrachters wider, sondern sie erschafft eine Schaffensart die einzigartig ist, und mit hohen Wiedererkennungskraft: Dursichtige Leinwände bedingen ein Ballett an Schattenspiele, eine Vielschichtigkeit des Werkes und eine eigene Lebendigkeit. Nicht zufällig redet man bei Gemälden über «Lein-wände»: «Wände, Mauern aus Leinen», die wie eine starre Trennwand, die bemalte Oberfläche von jeglicher dahinter verborgene Hinterfragung trennt. Doch durch die Durchsichtigkeit des Stoffes bricht Waldburger diese Wand auf und entblösst nicht nur den Rahmen, dessen sonst rein funktionale Rolle magisch in das Gesamtbild verschmilzt, sondern eine Mehrschichtigkeit an Ehrlichkeit. Wie früher man gern mit einer Taschenlampe spielte und Schattentiere auf der Wand zum Leben und tanzen erweckte, macht sich Helen Waldburger die im Engadin fast schon Kult-artige Faszination des Lichts zum Mitspieler. Verwirrt, auf welcher Ebene die Szene sich abspielt, entsteht unwillkürlich eine Assoziation zu Platons Höhlengleichnis, in dem Sokrates dazu aufruft, die auf eine Höhlenwand projetzierten Schatten zu hinterfragen: Was ist Wissen? Was ist Illusion? Wieso fühlt sich der Mensch mit gewohnten Illusionen wohler?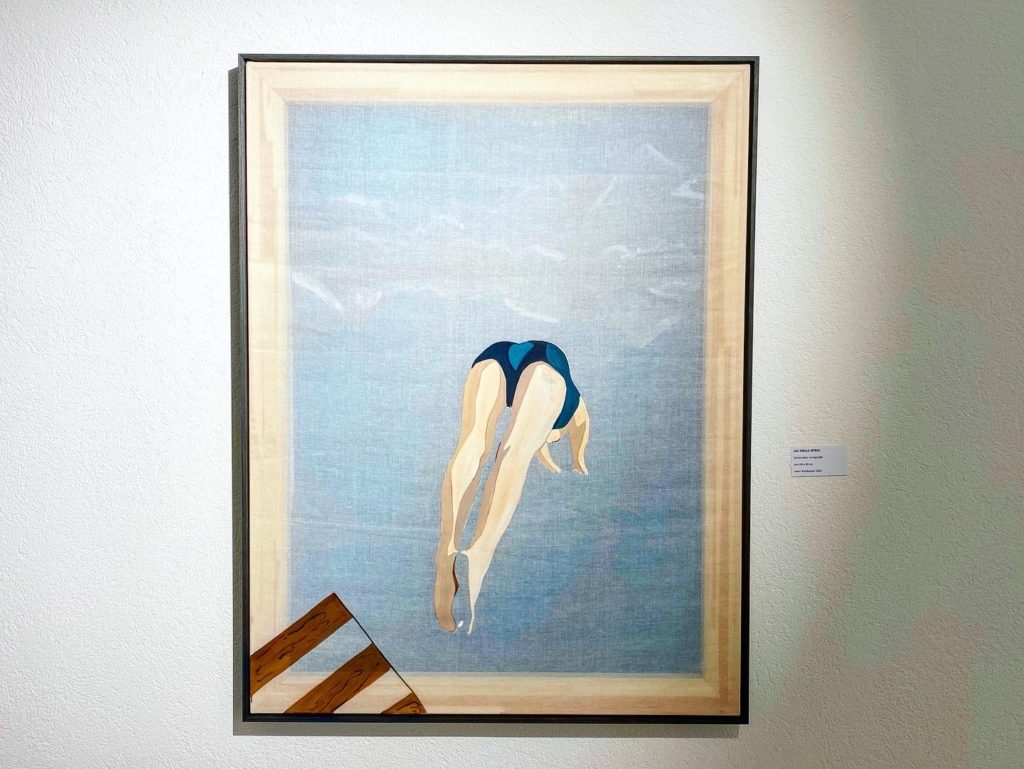 Helen hat weitgehend in Großbritannien ausgestellt und wurde für den NOVA Award nominiert. Sie ist zudem Mitbegründerin des "Collective Cuba Projects" welches einen zwei monatigen Künstler Aufenthalt in Havanna, Kuba, organisierte.
Auf die eher aus dem Emotionalen entstehende Werke von Helen treffen, ergänzend, die sehr aposteriorischen Reflexionen von Eliot. Wundervoll trübt der rein ästhetischer erster Eindruck und entfaltet Narrative aus ersten Eindrücken, gründlicher historischen Recherche und aktueller Wiederinfragestellung des untersuchten Objekts. Als würde man ein Notizzettel samt seiner Gedankengangskizze in ein Gemälde verwandeln, erhebt Eliot Stew Leinwände zu Bühnen für sozioökonomisch-historische Geschichten. Um dem neuen Narrative zu helfen sich zu offenbaren, sketcht Stew erste Schritte der werdenden Komposition auf Papier, während er zum Thema recherchiert, und bringt dann den Gedankengang und das Endbild mit einer digitalen Bearbeitung zum Abschluss. Das Portrait des Heiligen Mauritius erklärt sich für einheimische Engadiner von selbst: er hatte sich mit einer sehr intensiven historischen Recherche auf seinen ersten Besuch im Engadin vorbereitet und darin das Schicksal des Märtyrer-Namensgeber von St.Moritz verdaut. Dem «In Lobster we trust» -'Hummer-Bildnis' allerdings, liegen dem breiten Publikum sicherlich unvertrautere Geschichten zugrunde: Das zum Sinnbild von Opulenz und Luxus gewordene orange Schalentier wird unter die Lupe genommen und das «St.Moritz Way of Eating» wird spielend doch etwas neckend in Frage gestellt: wer weiss schon, dass Hummer einst als «Proteine für den armen Mann» verschmäht wurden (von den ersten Europäischen Siedlern in Nord Amerika)? Dass Hummer gar die Billig-Nahrung waren, mit der die Sklaven auf der Durchreise durch Kuba gemästet wurden? Was zum mahnenden Symbolobjekt des Kollektivgedächtnisses eines Schandflecks der imperialistischen Europäischen Geschichte hätte geadelt werden können, thront heute in den feinen Porzellan-Gedecken, wie ein – je nach Perspektive – König der Haute-Cuisine – oder – wie eine Allegorie der fröhlich-unbekümmerten-verschwenderischen Sünde der Völlerei … Um diese Kritik zu verdeutlichen malte Eliott Stew diesen idealtypischen Hummer bedeutungsstark verblasst.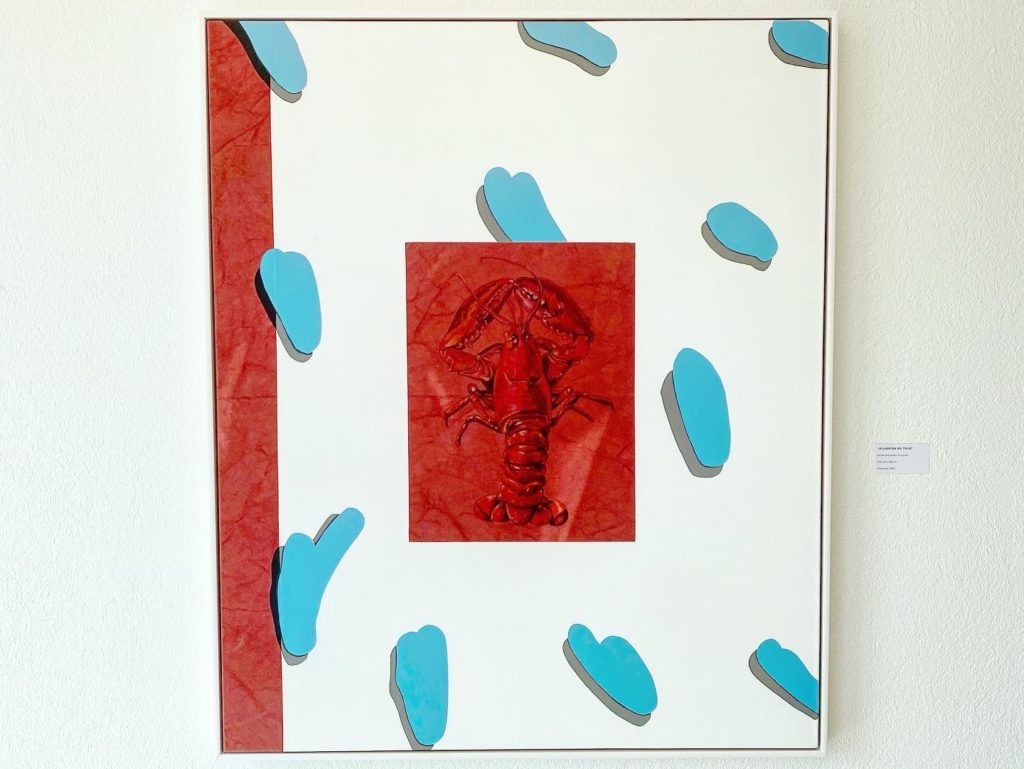 Stew hat im Somerset House (London) ausgestellt, wurde für den CASS Art Prize selektiert und hat bei dem AUC.ARTLAB Residency Programm teilgenommen. Seine Werke wurden weitgehend in Grossbritannien ausgestellt.